The Journey to KotoriCon 2020
I started my trip to KotoriCon early on Friday, not even a whole week after MAGFest ended. I took a half-day then drove out to the city in the morning to pick up Steven and Linnea. Before the trip, we all collaborated together on Spotify to make our own weeb playlist!
It was then a short two-hour drive down to southern New Jersey. When we arrived at the hotel, it was in the middle of Rowan University. We made the mistake thinking the convention was at that school and were confused at the lack of weebs walking around! After that confusion, we ate a quick Thai dinner and drove down to the con. 
KotoriCon Day 1
The first day was just some casual fun. Upon arrival, we met with my friend Jalissa, then proceeded to play some video games and card games together. First up was Mario Tennis. This was so much fun to play and it's a very competitive little sports game!
After that, we started playing Tanto Cuore, a really cute anime maid card game! The game is difficult to understand at first with card placement but soon it becomes clear what to do and is very fun to play! This game is all about building your own army of maids to take care of you.
After being kicked out of the game room, we return to our hotel room. After preparing for a night of relaxation, we plug in the laptop and start watching the new Nekopara anime. This anime is absolutely adorable, just like the game. If you love cats, you need to watch Nekopara the girls act just like cats do.
After Nekopara, I happily show the team one of my favorite anime films, Otaku no Video. Technically this is a set of 2 OVAs but it is compiled into a film on Crunchyroll. Otaku no Video is half otaku mockumentary and half anime about a man's journey to become an Otaking! Otaku no Video is based on the real-life story of GAINAX and is a huge inspiration for me as a visual novel developer. During this time Linnea kept working on her new art piece, I can't wait to see how the final piece comes out. 
Day 2
The next morning, Laura arrives at the hotel and we proceed to practice our panel script. Everything seems good with time and we make sure all the technical parts work. We then have breakfast at a traditional New Jersey diner where I eat my very first pork roll! Pork roll is a type of sliced pork with some delicious salty spices, a bit hard to describe but very tasty. After dinner, we drive back over to the convention center to start our day.
Once we got to the convention center, we went out to explore more on the campus. The first place we walked to was the artist alley and dealer room! We had a great time shopping around here. We even managed to convince our lead developer Steven to get his own costume, an Umaru-chan cape. This turned out to be a great purchase, he loves it and we even found another Umaru-chan cosplayer as seen in this picture!
After making some purchases in the dealer room, we walked over to the karaoke room. Inside here, Linnea spent her time drawing while Laura and I did some singing of some of our favorite songs. KotoriCon has a very chill vibe and we really enjoy just relaxing with everyone.
Our first panel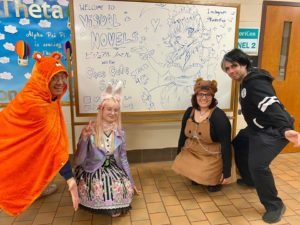 I prepared for this panel with the team for about a month and a half. Now was the time we would finally present. This panel is presented within a game instead of a typical PowerPoint. We arrive at the panel room over an hour early so that we can do some preparations first. Amazingly, there was a girl that came to join us early at that time. We spend time talking with her about her artwork and future art career. Also during this time, Linnea creates a beautiful Moka drawing on the whiteboard as you can see in the picture here! Before everyone arrives, we play music off our Spotify playlist and make the panel room into a mini-party!
The panel goes really well for us. We have a total of about 50 people watch our panel and everyone pretty much stayed in the room! I feel very happy to see such a high engagement from our audience. The best moment during this presentation is when Monika enters the room right after our screen starts glitching during the Doki Doki Literature Club segment! You can see all the magic happen in the video here:
After the panel, we head to the tea room to enjoy some tea, snacks, and manga. This is a great way to decompress outside of the high energy convention and I do recommend people check out "quiet rooms" in other cons. We proceed to watch one more panel, the obscure game consoles panel which I feel was very interesting. I like that we could touch the different rare consoles that were shown off. After that, we all say our goodbyes to our friends and drive back to New York.
thanks for everything KotoriCon
KotoriCon was a truly magical event and it holds a very special significance for us here at Chaos Cute Soft. This is the first convention for our group and is also the first con where we presented our panel. Unfortunately, this marks the very last KotoriCon. KotoriCon will no longer continue after holding conventions for 11 years. I feel sad to see it go but I am very happy that we got a chance to be a part of the last KotoriCon.